Japanese Ties Dictionary
according GanRaptor
This page contains description of ties according Japanese names.There are also description of non Japanese terms and non body ties lower in article.


Agura shibari
– one of the classic japanese bondage, similar to
ebi shibari
, But much less onerous (Translator note: ebi shibari is very hard to stay for the bound person). A characteristic feature is legs arranged "in Turkish" sitting.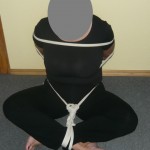 Aomuke tsuri
– face up suspension.
Ebizeme
– torture tie
Ebi - tsuri
– suspension in ebi tie.
Fumo-tsuri
– head down suspension, one leg is bent at knee.
Gyaku ebi
hog tie) – Reverse shrimp, Polish name: kołyskakołyska (cradle).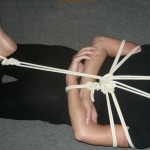 Gyaku ebi tsuri
– suspension in position gyaku ebi.
Hajine kinoko shibari
– finger bondage
Hon Kikkoku
- same as: hishi kikkoku, kikkoku (torture shell) binding of arms and torso with a distinctive, hexagonal shape of the pattern of ropes.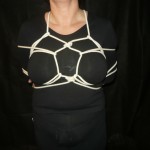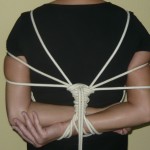 Isu-jyo kohai
– tie on chair
Kataashi tsuri
- one leg suspension
Kikkou
– See hon kikkou.
Kotobu ryo
– tekubi shibari – hands tied behind head
Kubi tsuri
– suspension on neck
Mae – te shibari
- tie with upper limbs bound in front.
Matanawa
– "crotch rope" – tie of ropes conducted in pubic area, between buttocks.
Momo
– limbs tied with body position enforcing buttocks to be projected/protruded.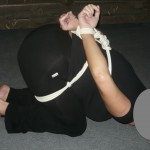 Mune nawa
– breast tie.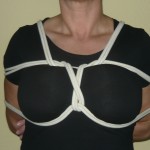 M-tsuri
– Santen tsuri – suspension in position when body is like sitting on airplane seat, with legs tucked under thighs. Arms are tied in Takate kote (T. N. - hands tied back).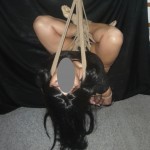 nemui shibari
(sleeping shibari) - tying during which person being bound is in position like during sleeping.
Ryo-tekubi shibari
- hand tied together at wrists
Ryo-ashi tsuri
- suspension with both legs tied at ankles.
Sakasa tsuri
- head down suspension. Body is in vertical position, no takate kote is used (shoulder doesn't bear the weight).
Sakuranabo
– literally cherry - properly named ​​"matanawa". One of few
terms which do not genuinely come from Japan, but but they are originated and fixed in Western publications shibari. Matanawa is tie in which rope surrrounds vagina to emphasize it.
Santen
tsuri
- suspension in a sitting position with ropes attached to tied body (Takata kote). There are totally three suspension ropes ("san" = three), two of them separates legs.
Shinyu – literally, "pearl"
– euphemistic term for nipples; whole breasts, used as a name breast tie.
One of several terms, which does not come authentically from Japan, but are originated and recorded in the western shibari publications.
Spread-eagle
– tie in the position of spread of arms and legs. (T.note - not sure about origin, because this is typycal for western bondage).
Strappado
The position of hands bound behind back, pulled tightly upward, which makes the head leaning forward and the buttocks projected/protruded.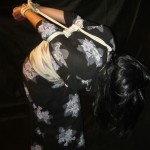 Tachi waza shibari
– techniques of tying shibari in standing position.
Takate kote
- See Ushiro takate kote
Take tsuri
– suspension with use of bamboo
Tanuki – literally: raccoon
suspension in a position where the hands and feet are placed together.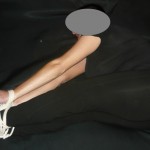 Teppo shibari – literally bound with a rifle
( teppo = flintlock rifle ) Tie in which both arms are bent at elbow and firmly tied (arm to forearm). One arm is placed above shoulders and elbow of second arm is lowered down. Both hands are firmly attached towards themself. (T. Note: this tie is hard for wrists)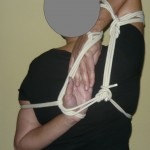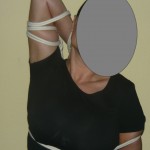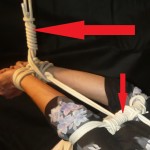 Ushirode shibari
– tie where the arms are placed behind.
Ushirode-gasso shibari
– "reverse prayer" – tie in which palms are positioned high behind back, placed inside of each other, with fingers pointing in the direction of the head.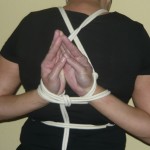 Ushiro Takate Kote
- English, box tie often abbreviated to "Takata kote" or TK. Ushiro Takata kote is a fundamental way in the Japanese arm bondage. Arms and forearms are placed together forming a pattern of "U".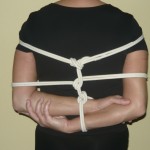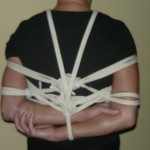 Ushiro tasuki shibari
– tie based on the patterns of hojo jutsu. Arms are arranged as in takate kote, but hands are tucked much higher in the direction of the head; they form pattern "W", while the front of the body lines are arranged to cross in the form of letter "X" between breasts.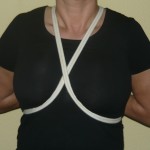 Yoko tsuri
- side suspension.
Yuki musubi – also boola boola
- basic loop used in shibari
Western names for ties
- according GanRaptor
Ball-tie
–
bound in ball
– a body arranged in embryonic position.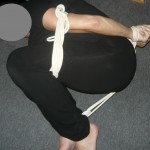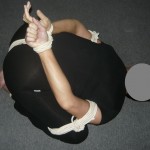 Ebi
– (shrimp, lub clam)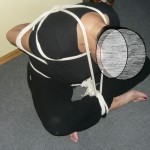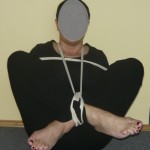 Frog-tie
– bound with legs bent like in kneeling position, feet are firmly pressed against thighs.
Karada
– literally: the body. It is body harness, which formed in kind of aesthetical dress of ropes. Important part of the dress is diamond shape web which covers body (Transtaltion note: the word karada is not japanese, and even the technique does not have origin in shibari. It is often used for other kinds of body harnesses - decorative rope dresses, where the diamond shapes are not present. Here are often seen colored syntheticcal ropes; the original sense of karada is not only to look good, but also to make pleasure on body).
Knots and wrappings
- according GanRaptor
Azami musubime –
Thistle knot – a traditional decorative knot which is the end of the jute ropes in shibari

Cinch
– (jap. kanuki, tomei nawa), English pronunciation: [s;yncz] – ( Polish "rygiel, zacisk"), (T. Note: not translateted)
Often used binding element structure, consisting of wrap arrangement perpendicular to the main wrap. Serves as a terminal for main wrap(s) (point 2), or determine its (their) location (point 1). (Translator note: Cinches are vertical wraps seen in Takate Kote (Box tie), which holds main horizontal ropes on correct position.)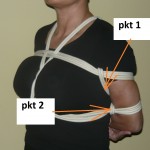 Ichinawa –
rope, or a bundle of ropes. It is seen in Takate kote tie, where its runs vertically along the spine. (T. note: shortened)
Kanuki
– see cinch.
Tomei nawa
(pronounced as "tome nawa") – also: kanuki - literally lock, english called cinch (See cinch for more).
Tsuka maki
– literally sword hilt.
Way for finishing of rope, which is to wrap it around another bunch of ropes. Final look is similar to sword hilt or handle.
Non-tie terms
- according GanRaptor
Asanawa
– Traditional style of Japanese ties based on the ropes made from natural fibers.
Bari
- shortened form of the word shibari, for example: ebi-bari. (Translator note: not much used; not sure where autor use that)
Bondage
– French equivalent for tying is "ligotage"
Bunny
– english term; the bound person
Dorei
– a slave, a servant, in the terminology of ang.slave. The term highlighting slavery more than m-jo: submissive.
Hashira ushirodaki
Shibari – binding with wooden equipment wood, bamboo elements.
Hojo jutsu
- old school of Japanese Techniques of tying of captive during arrest.
Juujun
– submissive person
Kazarinawa –
decorative bondage - Macrame shibari - shibari directed to the decorative aspects of the ties, sophisticated and complicated wraps
Kinbaku
– literally: strong, good tie.
Generally accepted term for variety of shibari refinement. The importance is focused on emotional relationships and aesthetics.
Kotori
Suspension tie. One of the few terms, which does not come genuinely from Japan, but it was created and fixed in Western publications shibari.
Kuzushi
– kuzushi nawa – literally deviation from position of balance.
A term bonds using asymmetric routing shibari body deliberate imbalance and natural position.
Term used to describe tying shibari with asymmetric arrangement of body. Purpose is to deliberate balance and natural position of body.
M-jo
- submissive, masochist, bottom/ sub.
Also term specifying woman interested in shibari bondage.
For this person, man is called M-o.
Newaza
– a term from vocabulary of martial arts. Techniques performed on the ground, in the ground floor.
Nawa
– rope
Nawashi
– rigger (western); term for one who makes ties, capable to masterfully use ropes, (but also a person that makes the rope - rope maker) .. (T. Note: also rope artist; practicioner of kinbaku)
Nawado
– path of rope - art of using rope.
S-jo
- dominant, sadist, (english) called top / master / mistress.
Sansei
- literally, the one who has already achieved it, passed, experienced.
A term used to describe someone who teaches at the championship, master in the craft, professor.
Shibari
- literally, tyieng. In generaly meanning shibari is understood as erotic bound. (T. note - shibari needs not to be on naked body; also it's historical origin and purpose in was hold captives in bondage.)
Shuuchi shibari
- bond to include elements humiliating / embarrassing tied person.
Tenugui
– headband of fabric used e.g. to eyes
Zuri
- also: tsuri – suspension. In an assembly of the term (eg yoko tsuri) describe the position of the suspended body.
Tsuri
– aslo: zuri – susspension.
Tsuri nawa
– rope used for suspension